As a Shift Manager, you will be responsible for the day-to-day wellbeing of your teams and shifts in your store. You will make sure that our customers have a great experience with Pizza Hut by keeping shifts running smoothly and team members engaged. The role is fast-paced and full of variety, which means hands-on experience in the kitchen and the front counter – you'll be an expert in every aspect of our daily routine.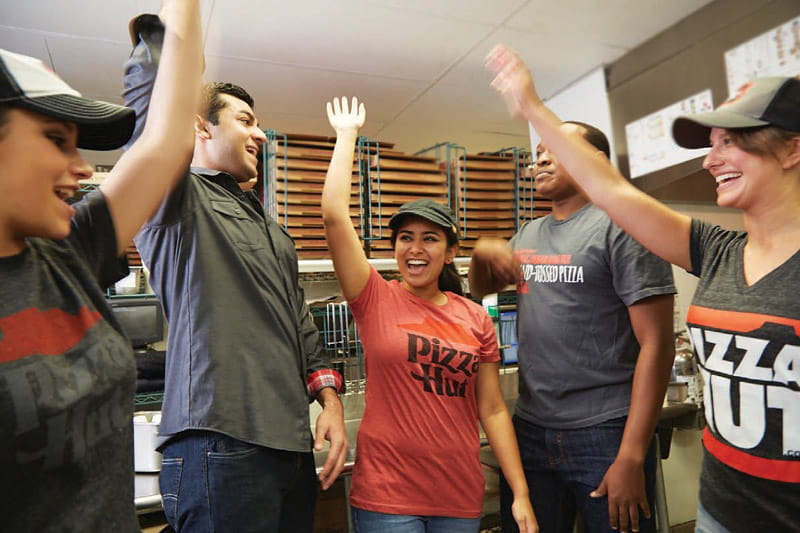 The joy of working with and being part of a team – joining Pizza Hut means joining a community.
You will play a role in growing the business and grow as a leader.
We help you be the best you can be in the role. We'll provide early responsibility and training for your first or next step on the management ladder. Our Shift Manager Training Course will help you become a leader, and love it!
As well as your organisational and team-working skills, here are some of the things you need to know if you're thinking about becoming a Shift Manager:
You will love leading a team, and care about your team members.
You will understand the importance of being energetic, approachable and enthusiastic in order to make memorable moments for customers and for your team.
We are looking for those who want to lead and can help ease situations through effective communication and decision making.
You will work with your Restaurant General Manager to think up creative ways to motivate the team and create a great culture in your Hut
You will share our passion for growing a business. With every shift you'll learn and grow as a leader – the role is a great steppingstone to becoming a Restaurant General Manager.
The majority of our Shift Managers have come up through the ranks from Team Member or Driver positions.
For those that want to progress at Pizza Hut, we will invest in your on-going training and your career.
You will get certified in all team member roles to gain a full understanding of how the business operates.
You should be at least 18 years of age.
Across the board, your safety is our priority. All team members are following strict social distancing where possible, Covid-19-safe in-store hygiene measures and contact-free delivery rules. We have strict protocols in place for all our teams, so that we can protect you and your families as well as our customers. As a leader in you Hut, you will be key in helping to lead these processes within the business and creating a safe environment for the team.
I've been encouraged and supported by Pizza Hut at every stage of my career.
Whatever your role at Pizza Hut, you have space to grow and achieve. Our restaurant leadership teams are full of people who started in one of our entry-level positions and climbed the ladder all the way to the top. We believe in helping our team members reach their full potential within the business, and take pride in promoting from within our talented teams as well as finding skilled external expertise when needed.
As part of Yum! Brands, you will be able to enjoy experiences at both KFC and Taco Bell too. Yum! Brands is all over the world in over 150 countries – which means you may even have a chance to work internationally!